"Business Analysis and Leadership" book launch
We are very excited to announce that "Business Analysis and Leadership: Influencing Change" was formally launched for the international Business Analyst community 14 November 2013 at Cass Business School in London. The evening was hosted by the two editors and chapter authors Dr Penny Pullan and James Archer, and was attended by a number of the other chapter authors as well as many members of the business analysis community. It took the form of lively panel discussions and debate, with plenty of time for chatting and networking.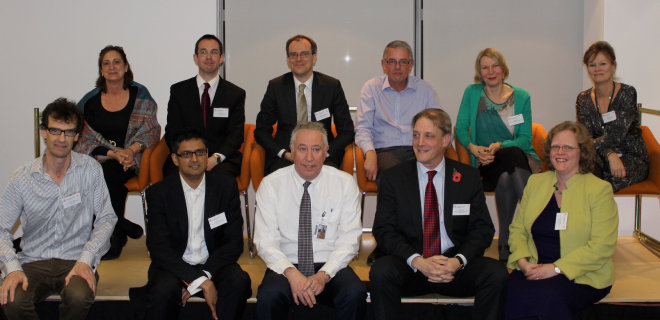 Authors top left: Sarah Coleman, Adrian Reed,Simon Edwards, Michael Brown, Melanie Rose, Kate Stuart-Cox
Authors bottom left: James Archer, Dav Bisessar, Andy Wilkes, Nick de Voil, Dr Penny Pullan
"Business Analysis and Leadership: Influencing Change" examines how Business Analysts can influence and lead change within their organizations, but often without having formal authority. It is structured by different perspectives of leadership and business analysis: leadership of self, leadership within the project, leadership within the organization and leadership within the wider world: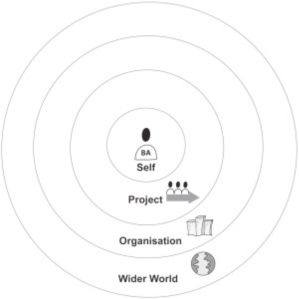 Business Analysis Leadership Framework (source: "Business Analysis & Leadership: Influencing Change")
Sarah Coleman, Director at Business Evolution, is the author of the chapter entitled "Dealing with Power and Politics". "Power and politics in organizations are fascinating subjects" she says "but they are often considered predatory, unsavoury and focused on self-interest. Yet they pervade most organizations and strongly influence the way organizations operate to take decisions about the allocation of resources, how conflict is resolved, how co-operation and collaboration is supported and where the organization should head. These are all excellent reasons why all of us need to become "organizationally aware": we need to be able to understand the politics of the situation and those power bases of the groups we need to influence and carry with us."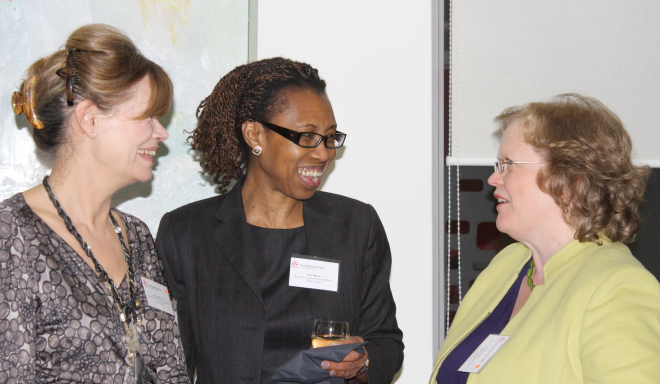 At the launch. From left: Kate Stuart-Cox (chapter author "Business Analysis and Leadership"), Dr Teri Okoro (Chair of Women in Project Management Special Interest Group at the Association for Project Management), Dr Penny Pullan (editor and chapter author "Business Analysis and Leadership")
"Now "Business Analysis and Leadership" is launched we're developing the BALeadership website to provide a great resource to complement the book" says Dr Penny Pullan. "In addition, we're bringing together programmes to help business analysts to develop their own leadership, as well as leadership qualities across their BA practices. Our biggest hope is to create a conversation about the role of the BA and to inspire people to aim to lead themselves, their projects, across their organizations and even into the wider world".